RETROACTIVE REFORM PASSES HOUSE COMMITTEE (FIRST OF SEVERAL HURDLES)
Illinois criminal justice reforms usually only look forward and provide no relief to those already impacted by outdated laws. To impact the current prison population, Illinois must implement broad retroactivity reform as is proposed in HB2039, or should consider it an essential element of all discreet efforts to reform our criminal justice systems. Restore Justice Illinois' Dan Johnson testified for HB2039, which passed the House Judiciary-Criminal committee over the opposition of State's Attorneys, whose support or neutrality will be necessary to move the bill farther along the process. Discussions among stakeholders are moving forward this session.
YOUTHFUL PAROLE BILL SIGNED INTO LAW!
Restore Justice's top policy priority, a proposal reinstating parole for young people has been signed into law. Sponsored by Senator Don Harmon, Representative Barbara Flynn Currie, and Representative Lindsay Parkhurst, PA 100-1182 creates new parole opportunities for those Under 21 coming into the system with extreme sentences ahead of them. This law will, for the first time in 40 years, provide second chances for young people. It takes effect on June 1, 2019.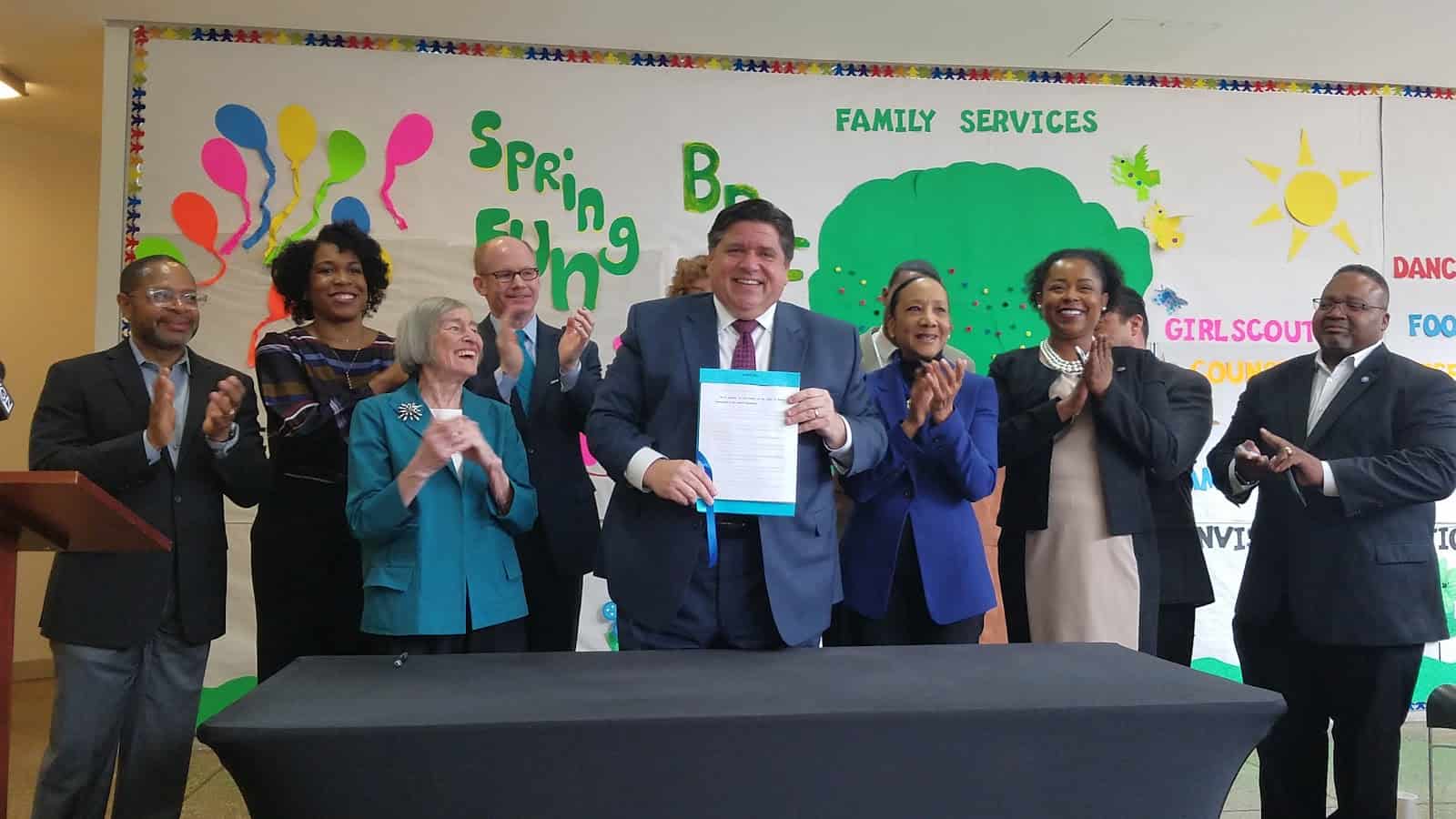 "FELONY-MURDER RULE" REFORM UNDER REVIEW BY STAKEHOLDERS
Illinois has one of the broadest felony-murder statutes in the country. A person can be charged and convicted of first-degree murder—a conviction that carries a minimum sentence of twenty years and, under certain circumstances, a maximum sentence of natural life—even if they did not actually kill the victim or intend to commit the murder. HB1615 targeted our statute to prevent individuals who may be less culpable from receiving our state's harshest possible punishment. Facing stiff opposition from State's Attorneys, we are now working with stakeholders, including Cook County State's Attorney Kim Foxx's office, to determine how best to utilize Cook County data on felony-murder and how to collect or make public that data state-wide.
VISITING ROOM VENDING MACHINE PRICE MARKUPS BEING INVESTIGATED
Nearly 2 in 3 families (65%) with an incarcerated family member are unable to meet their family's basic needs. Forty-nine percent struggle with meeting basic food needs. Visitors of Illinois inmates pay a 25% markup on products in vending machines in facility visiting rooms. Those same products are sold inside the prison to corrections officers for a 10% markup. HB1617 would have provided that the price of any goods sold from vending machines be the same for correctional officers and visitors to the facilities. While the bill did not move through committee before the March deadline, discussions with stakeholders are ongoing, and we are currently investigating ways in which we can bring this proposal back this session in another form.
TELEPHONE ACCESS BILL IS OUT OF COMMISSION FOR THIS YEAR
In 2016, we supported and helped to engage policy-makers in capping phone rates between Illinois prisoners and their loved ones; the new, lower rates are now in effect. This has created greater demand for the limited number of phones accessible by inmates. In some cases, severe limits on available phones have caused serious safety concerns that have not been adequately addressed by facilities. HB1618 would have required each Department of Corrections facility to have at least one telephone for every 10 inmates in their custody, ensuring that Illinois prisoners have access to a phone during their limited dayroom times. We have been working to negotiate an agreed bill based on the Illinois Department of Corrections' pledge to "ramp up" phone installation. That said, we are committed to continuing to press this as a legislative matter if progress is not made in the coming year.
IDOC OMBUDSMAN PROPOSAL MAY RETURN THIS SESSION
Handling of grievances reported by inmates have been chronically problematic within IDOC, largely because they do not have an independent entity to report to. HB2925 would create the Department of Corrections Ombudsman Bureau to serve as an independent option for inmates seeking redress. The bill would allow the Ombudsman to receive, investigate, and attempt to resolve complaints that the Department: violated a specific law, rule, or Department written policy; or endangered the health or safety or any person; further, it gives the Ombudsman access to the records of an offender who files a complaint and immediate access to any correctional facility administered or supervised by the Department. Facing opposition from Republican lawmakers on the House Judiciary-Criminal committee, the bill did not make it through committee by the March deadline. Stakeholders are meeting with Republican members to determine if a compromise can be reached.